Digital signage is growing. Businesses are using digital signage throughout their establishment to go green, save money, and increase customer interaction. Changes to the design or information within digital menu boards, itineraries, and community calendars are remotely managed and alterations such as price updates are complete within minutes. Establishments use small versions of digital signage to display when a meeting is taking place in a conference room and use interactive directories, digital billboards, and wall displays to engage their visitors and staff.
Digital Signage Will Not Be Ignored
It is hard to ignore how much society has embraced digital signage, making it the popular choice for communicating to a large audience. There are several reasons for this rise in digital media for advertisements, menus, and more. The millennial generation, which is entirely comfortable with technology, is in charge. This generation tends to see technological solutions as providing current events while paper equivalents represent outdated details. They appreciate how digital signage personalizes the in-store experience and allows customers to feel as though they are receiving professional, personal treatment every time they visit the store. Businesses not taking advantage of digital signage are missing a critical way to connect with modern tech-savvy consumers. Customers are more likely to notice digital signage when out than they are to connect with the same videos on the internet: 47% of Americans who remember seeing digital ads can remember the specific ad they saw. Digital billboards stand out even more than online ads, as 71% of customers find digital billboards more memorable than online advertisements.
Why is Digital Signage Effective? Digital signage is a way to deliver information straight to the consumer, as it is faster and more effective than traditional signage. Businesses no longer wait for delivery of updated posters and signs from third-party services. They are not wasting paper and ink printing materials themselves for distribution around the office or to incoming guests. Digital signage allows for fast remote updates to multiple locations to communicate time sensitive details about events or changes to a menu board for example. Moreover, with digital signage the intended audience is more likely to notice the details presented with movement, which is sure to grab their attention. 
Customers look longer at digital billboards.
Digital signs and billboards are brighter, more colorful, and often change or move. As a result, they are more likely to catch the attention of people driving or walking past them.
Digital signs attract customer interest. As many as 8 out of 10 customers admit to entering a store because digital signage caught their eye and interested them in the products within. Getting customers through the door of a store is often half the battle, especially if located within a busy mall or shopping center next to the surrounding competition. Digital signage has been shown to influence consumers to change brands, shift purchasing priorities and even change what they had planned on buying. Digital signs attract attention longer than static signs, which tend to hold their appeal for just a few days before losing the interest of those passing by.
Digital signs may improve profitability. Customers appreciate the personal touches that retail stores provide. According to a study performed by Neosperience, 55% of consumers admit they would pay more for a better customer experience.
Digital signage makes accessing information easier.
Customers can gain access to the information relevant to them, and not wait for an employee to offer details. Customers prefer a self-service model for a number of reasons: they are impatient and can avoid waiting for a salesperson to become available; they are independent; they do not enjoy interacting with "pushy salespeople." Whatever the reason, digital signage often puts access to key information in the hands of the customers. Digital signage makes it easier to wait. Digital signs capture attention and redirect focus to the information moving on the screen, which makes long wait times feel up to 35% shorter. This is particularly beneficial on crowded shopping days. Not only does it decrease customer stress, it will also make things easier on employees!
Unlimited Opportunities for Digital Signs
Digital menu boards

– allow for quick changes to selections and daily without wasting paper. Digital menu boards can also highlight new dishes for customers to sample or learn more about existing favorites. Restaurant managers have the option to remove items as soon as the kitchen runs out of a necessary ingredient.

Digital signs in stores and malls

– make it easy to catch customers' attention and direct them into a store. These signs can highlight sales, increase participation in special events, and engage interest in newly opened shops.

Interactive directories and conference room calendars

 – can give a range of information for customers, allowing them to get access to data on their own instead of searching for an available staff member to help them find their destination. They can also be used outside of conference rooms to alert people outside of a meeting in attendance.

Digital wall displays

– can share new information about products to help shape vital customer purchasing decisions. From highlighting best-selling brands to sharing more information about how a product could benefit a customer, these displays are ideal for many stores.

Promotional signs

– take the place of static signage informing customers of existing promotions with the added benefit of lengthier customer attention.

Team Motivation

– display sales goals, and reminders, or showcase your employee of the month. Have fun with your team by rolling company trivia and details about the next team-building event. Having a display in the break room and common areas is a great way to communicate and encourage positive behaviors.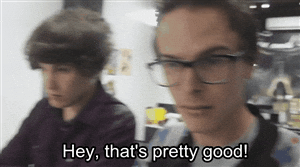 The opportunities are only limited to your imagination! It is crucial to have a plan in mind when using digital signage. To keep it relevant and effective, the content must be updated regularly. Businesses do not necessarily need a marketing team to manage this task. Some digital signage providers such as Tie National offer a design package to help with the initial layout and are available for design refreshes. After an initial design is established, zones can be locked down in order to allow local team members access to simply update specific fields as often as necessary. To embrace the digital age and start using more signs throughout your business, contact us! We will work with you to learn more about the age of digital signs and how they have the potential to affect your business.
Michael Durante spent his teenage years into his early 20s climbing the ladder in a branch of a successful banking firm, starting as a teller and ending as a Sr. Branch Manager within 6 years. In 2003, he left the banking world to join his father and create TIE National, a telecom company 60 years in the making. Together, they grew the company from a two-man operation solely working on telephones to a multi-million dollar international business with employees in over a dozen states, covering everything from phone systems to cloud products and computer systems. You can find Michael on LinkedIn.